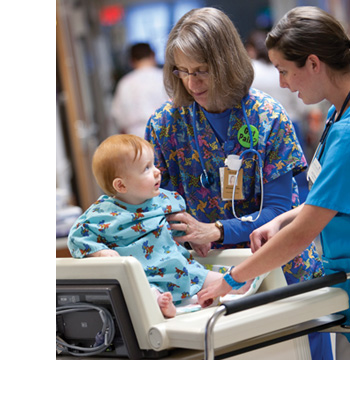 Advance Selected Academic Programs
Goal: $10 million
Saint Mary's students pursue degrees in STEM (science, technology, engineering, and mathematics) at higher rates than women at other colleges and universities. And the College's reputation for excellence in nursing and science is growing rapidly.
To continue to set the standard in these fields, maintain optimal student-faculty ratios, and create more opportunities for women to excel, the College seeks to endow the Department of Nursing and create a new endowed Center for Women in Interdisciplinary Science and Math.

Nursing
Endowment for the department will advance the nationally accredited nursing program by:
Upgrading equipment and technology
Supporting faculty compensation to recruit and retain talented, doctoral-prepared professors
Enhancing ongoing faculty professional development
Preparing to develop a doctor of nursing practice (DNP) program that will equip students with advanced clinical and leadership skills
Center for Women in Interdisciplinary Science and Math
The Center for Women in Interdisciplinary Science and Math will create a place, both physical and intellectual, where the next generation of women scientists, mathematicians, and engineers discover their distinct potential. The Center will:
Develop innovative curricula that draw from multiple fields
Support student research with up-to-date equipment and software
Pursue outreach opportunities and partnerships including workshops for high school students and teachers that also create opportunities for Saint Mary's students



In 2010–11, 9.6 percent of all bachelor's degrees awarded to women nationally were in STEM fields. At Saint Mary's, 14.2 percent of degrees awarded that year were in STEM.