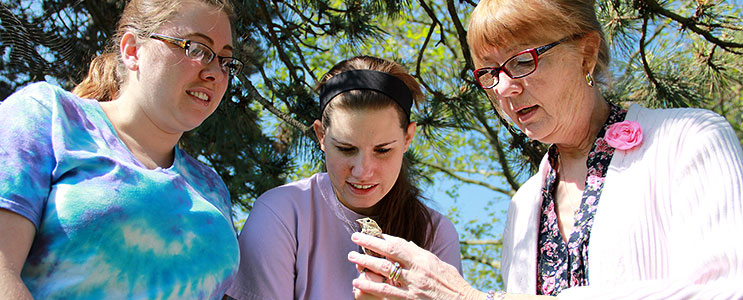 Invest in Talented Faculty
Goal: $6 million
The best way to invest in the quality of a Saint Mary's education is to support the dedication and scholarship of the outstanding faculty. The College seeks to raise funds for endowed professorships and faculty awards.

Endowed Professorships
Through a generous bequest, the new Marjorie A. Neuhoff Chair in Nursing has been established. Linda A. Paskiewicz is the inaugural chair holder.
The College also seeks to endow these rotating professorships:
Education: This professorship will allow faculty members to spend more time supervising students in the field as well as engage in research and publication.
Environmental Studies: This interdisciplinary minor launched in 2011 and encompasses biology, political science, psychology, ethics, and literature. A professorship will allow the College to fully support the program as it grows.
Mathematics: Saint Mary's mathematics professors typically teach seven courses in an academic year, leaving little time for large projects. This professorship will increase opportunities for scholarship, writing, conference and research travel.

Faculty Awards for Excellence
New endowed faculty awards will recognize, inspire, and support excellence. Four new awards have been created that honor exceptional teaching, scholarship, service, and mentorship.
Additionally, the College seeks to endow two longtime faculty awards:
The Maria Pieta Award that recognizes quality teaching in courses for first-year students and sophomores
The Spes Unica Award that recognizes a faculty member's eminent service

Each award will be endowed at the level of $50,000, which will provide a $2,500 award every year.