Give Saint Mary's Students a 21st-Century Library
Goal: $5.7 million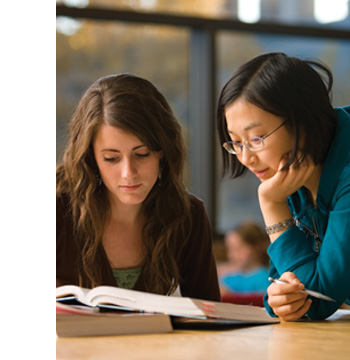 If the Cushwa-Leighton Library is to remain the hub of intellectual life on campus, it must be updated and strengthened to support the way students learn, work, and live today.
Gifts to the Faith Always, Action Now campaign will fund three significant projects—renovations, materials, and an endowed director's position.
Renovations: $400,000
Built in 1982, the Cushwa-Leighton Library was not designed to accommodate collaborative work. The renovated space near the main entrance will feature:
Flexible spaces for groups
Quiet study rooms where students can work independently or with tutors
20 to 30 computer stations with access to digital resources
Exhibit and events space with a coffee bar
A state-of-the-art practice room where students can rehearse and record presentations



Materials: $3.3 million
To keep faculty and students on the forefront of their academic fields, investments are made every year in new library resources—in print and online. The needed books, journals, and indexes aren't cheap; subscriptions to some of the best science journals cost as much as $20,000 per year. With new endowed funds, the acquisitions budget will be increased by nearly 70 percent, with a focus on new electronic resources that bring imperative knowledge to students' fingertips.



Endowed Director's Position: $2 million
In addition to managing library materials, librarians today support faculty in teaching and research and help students build research skills. That's why a great library needs visionary leadership. An endowed director's position will create sustainable funding to help the Cushwa-Leighton Library attract the very best leadership and support the director's efforts to build a world-class library that inspires, energizes, and educates every student who walks through its doors.
Saint Mary's spends $134 per student annually on library acquisitions compared to an average of $258 among private colleges in Indiana.