Update Science Hall for Today's
Research and Tomorrow's Careers
Goal: $6 million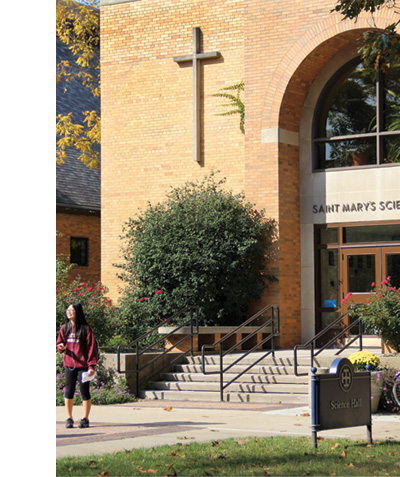 Saint Mary's legacy of scientific scholarship began with the Sisters of the Holy Cross—who drew on agricultural and engineering knowledge when they started the College—and continues to this day with Saint Mary's women succeeding in nursing, advancing to graduate study in science and medicine, and carrying the standard for women's leadership in science and technical fields.
Classes in the science programs are small, and faculty members—not teaching assistants—provide instruction, which opens the door for meaningful interaction and mentoring. Outside the classroom, students and professors collaborate in research, publish their results, and present to professional science organizations.
Science Hall, which opened in 1986, requires major renovations and new equipment. Jennifer Mathile Prikkel '95 and her parents, MaryAnn and Clayton Mathile, are generously providing funds for these improvements. Prikkel has pledged $1 million and the Mathiles are contributing $9 million to the project, the largest single private donation in the College's history.
This combined $10 million gift will turn Science Hall into a state-of-the-art facility that will support students who Clayton Mathile calls "faith-filled scientists."